Villa Namaskar
There is nothing like the fresh ocean spray in the beautiful mornings here at Villa Namaskar, this 5 Bedroom villa perches atop a truly unobstructed view of the Indian ocean, spanning miles until the horizon, The villa becomes an immediate standout as you enter its beautiful architecture, design and overall atmosphere that is purposefully designed to encourage fresh air and that perfect ocean view!
You are welcomed to spend time by the outdoor area next to your swimming pool by the sunbeds to get the perfect Bali Tan! The outdoor portion of the first floor is also home to a small garden area just in front of the swimming pool, perfect for kids to run around while enjoying the fresh air
Villa Namaskar's rooms are also designed in a way that no matter what room you are in, you are viewing the ocean! Each room has great circulation and airflow! Please take note that there is a sharing bathroom for two of the rooms on the first floor as well.
Step inside the superbly large and air conditioned living room and relax with your loved ones on the long L shaped couch with the balcony doors wide open, taking in that ocean view without ever breaking a sweat! Take 5 steps towards the Villa's entrance and you are also to find the kitchen and a dining table easily able to fit 10 people.
It would be difficult to miss the staircase that sits just south of the kitchen! Step upstairs and find 2 more bedrooms, with one of them being a master bedroom. This magnificent bedroom is large and open, with its very own minibar and king sized bed + couch near the window. Open up the doors and let the fresh ocean air take your breath away
The second floor is also home to a beautiful garden area that is large and perfect for your group yoga sessions, small football games or simply just relaxing.
Villa namaskar is located within La Joya Biu Biu villa complex! You are free to use its services located just outside your villa! You are also able to enjoy its facilities to its fullest! Enjoy hotel facilities, spa, the pool, bar, restaurant as well as a secret beach entrance located just below! Breakfast is also included within your stay!
Please note: Please be aware that in the early morning hours of the day, there are high chances of monkeys visiting the outside areas of your villa. We strongly recommend that you do not keep anything perishable or consumable in the outer areas (Swimming pool, balcony, gardens) as the monkeys are able to take the items with them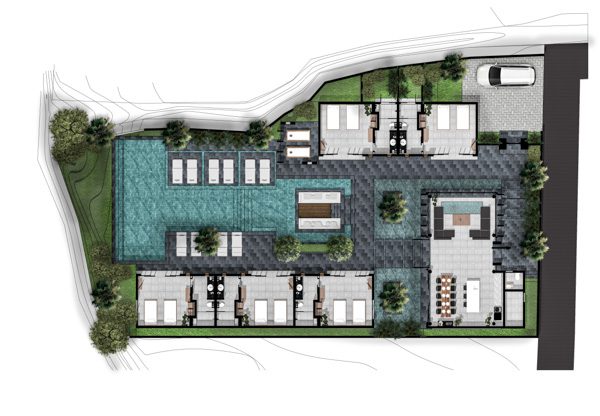 Jl. Pantai Balangan, Jimbaran, South Kuta, Badung Regency, Bali 80361