Villa Sauna
Indulge in a genuine sauna surrounded by coconut trees in this luxurious sauna retreat just 10 minutes from downtown Ubud. Visit our oasis of serenity, swim in a 20-meter-infinity pool facing a jungle view, and reset yourself with meditation and yoga practice.
"Our villa design is influenced by Finnish Sauna culture and Modern Tribal interior design, yet is uniquely Balinese."
Situated in an artsy district of Mas, Ubud, our 5 bedroom villa is bordered by a lush tropical forest. There is a lovely wooden Finnish-inspired Sauna, with a capacity of 14 people. You and your family or friends can connect and spend time together in the hot sauna and occasionally jump into the cold-water swimming pool in between each sauna session. Steam, cool, repeat!
Other things to note
Our villa is designed to immerse you in the beauty of nature while embracing sustainable living. This extraordinary abode eschews traditional air conditioning in the living room, instead inviting the warm tropical breeze to serenade its inhabitants.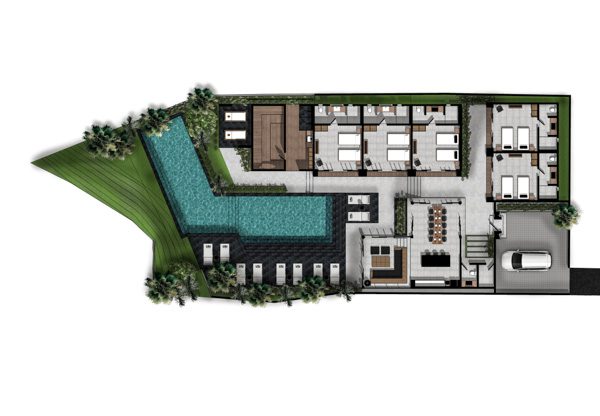 Jl. Werkudara, MAS, Kecamatan Ubud, Kabupaten Gianyar, Bali 80572