Melati Villas
Welcome to Melati Villas! A perfectly created, secluded and extremely cosy villa complex that is home to 3 different villas! You are immediately taken away by how clean and breezy the air is in such a perfect location. The moment you enter the villa complex you are greeted by a large 3 bedroom villa which is fully equipped to make your staycation dreams come true! 
Step into the middle of the villas and you will find a wonderful 'S' shaped wal;kway that is sprinkled with plants and is dominated with a green wall of trees, shrubbery and fresh air! The pathway leads to all the villas that are located on the left and towards the end of the walkway (Where there are 2 connecting villas, 1 bedroom and 2 bedroom respectively). 
The 3 bedroom villa (First to the left of the entrance), is home to a two storey industrial style villa that is fully equipped to perfection. You will find large glass panes that make up a large majority of your living room, allowing ample natural light to enter your space effortlessly. Climb up the staircase to the left of the living room right next to your kitchen and you will find another large master bedroom with a veranda that peers upon the 360 degree view of nature that surrounds you and oxygenates your stay! 
Step outside and you will also be pleasantly surprised with your very own jacuzzi! Located on the second floor outside the master bedroom. 
Located just around the corner of the walkway, you will find a one bedroom villa on the right side of the walkway. Enter and you will be greeted by peace, serenity and calm that radiates throughout the entirety of the space. This perfectly cosy one bedroom villa can be easily connected to the next villa by a large sliding door located just by the living room 
Next to your one bedroom villa, via a connecting door you are now within a 2 bedroom villa that takes inspiration from the design of the complex and is fully equipped as well as capable to accommodate families or a group of friends perfectly.
Other things to note
Our villa is designed to immerse you in the beauty of nature while embracing sustainable living. This extraordinary abode eschews traditional air conditioning in the living room, instead inviting the warm tropical breeze to serenade its inhabitants.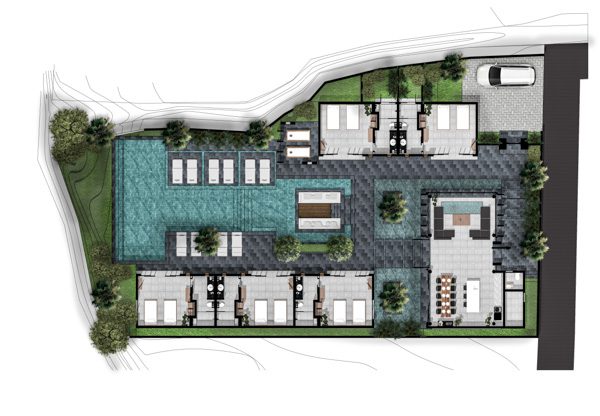 Lod Tunduh, Ubud, Gianyar Regency, Bali