The Waterfall Jungle Villa
We welcome you to the Waterfall Jungle Villa, this 4 bedroom villa perches atop a beautifully sloped land and prides itself on being one of Ubud's most beautiful villas! With wonderfully designed swimming pools, unforgettable rooms and amenities that are sure to enhance your staycation to the next level! 
This perfect 4 bedroom villa contains 4 stories, each containing an array of rooms! The first and highest floor is home to two fully equipped bedrooms, directly overlooking the unforgettable jungle views of Pejeng, Ubud. Step down one level and you are to find another floor with 2 bedrooms, Descend yet once more and you will find the beautiful kitchen, living area and jaw-dropping swimming pool! 
Spend your days sipping your favourite drink within your sunken seating area immersed in the swimming pool that spans almost the entirety of the floor! This floor contains a fully equipped kitchen and living room, perfect for spending time with your family or friends and wonderfully capable to host over 8 people. 
Just by the living room in the west corner, you are to find another staircase that descends gracefully into your very own Yoga Shala, this is a spacious  and perfectly located yoga shala made for those early morning or evening yoga sessions whilst between the serenity and tranquil atmospheres that the forest views create
You are located in the heart of Pejeng Kawan, Ubud, home to a spectacular array of vistas that surround you, from rice fields, forest and jungle views, and some of Bali's freshest air! Each moment in this villa you are immersed in nature, amazing memories, truly a capable and fully equipped villa that stands out compared to possibly any other villa in the whole of Bali.
Other things to note
Our villa is designed to immerse you in the beauty of nature while embracing sustainable living. This extraordinary abode eschews traditional air conditioning in the living room, instead inviting the warm tropical breeze to serenade its inhabitants.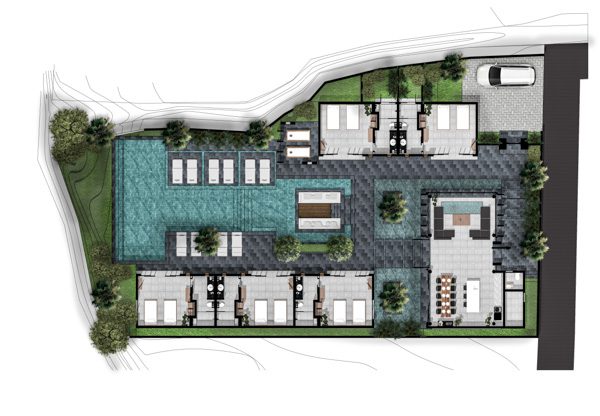 Pejeng, Ubud, Gianyar Regency, Bali