Villa Alba
There's nothing more beautiful than spending time with your loved ones in an unforgettable location, Villa Alba becomes the premier home for you to spend a beautiful, romantic and luxurious stay. This 1 bedroom villa perches beautifully in the nature of Ubud and is wonderfully located within some of the most heavenly jungles, rice fields and fresh air that you can only imagine! 
The villa is wonderfully equipped to ensure that there are no sacrifices when it comes to convenience and amenities. Step into the living area and peer upon the jungle views that breathe life to your staycations! Fresh air breezing through the sliding doors, reflecting upon your very own infinity pool, the day could not get any better! 
You are also welcomed to relax by your very own sunbeds or just by the sunken seating areas located just by the swimming pool! This villa is nestled in the rice fields of Banjar Kalah, Peliatan, where you are only 5 – 10 minutes away from the heart of Ubud! merely an arms reach or a very short motorbike or car drive to countless attractions! Loved by people from all around the world.
You are situated in a quiet residential area of Peliatan, Ubud, home to one of the largest number of wood carving artists per capita in Bali, specializing in hand-carved Topeng or Balinese Face Mask. Peliatan is a walkable neighborhood, with access to a rice field trail, fine-dining restaurants, coffee shops, and shopping.
Other things to note
Our villa is designed to immerse you in the beauty of nature while embracing sustainable living. This extraordinary abode eschews traditional air conditioning in the living room, instead inviting the warm tropical breeze to serenade its inhabitants.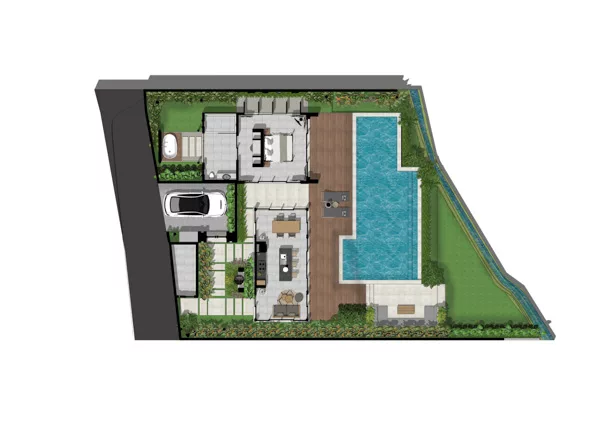 Banjar Kalah, Kecamatan Ubud, Kabupaten Gianyar, Bali