Villa Casa Laetitia
Welcome to Villa Casa Laetitia by Tibrava, an exquisite 3-bedroom villa located in the serene surroundings of Tumbak Bayuh, Mengwi. This remarkable 2-story retreat showcases a unique tropiterranean architectural style, seamlessly blending indoor and outdoor spaces to create a private oasis that welcomes natural light and refreshing airflow. Whether you are a family with children or a small group seeking a rejuvenating Bali vacation, Villa Casa Laetitia is your perfect home away from home. 
Villa Casa Laetitia radiates a sophisticated ambiance, characterized by its neutral and adaptable color palette. The visually appealing villa showcases a unique blend of decor elements gracing every wall, while the furniture pieces are artfully crafted from sustainable materials such as bamboo, stone, and reclaimed wood. The outdoor surroundings are adorned with lush plants basking in the natural light, enhancing the overall atmosphere inspired by both tropical and Mediterranean influences.
Upon entering the first floor of Villa Casa Laetitia, you'll be greeted by a spacious sunken living area furnished with plush U-shaped sofas with a Smart TV for your entire crew to unwind, and an aesthetic indoor garden under the staircases. Adjacent to it, a versatile dining table and seatings await, tailored for you and your loved ones to enjoy each other's company while savoring delicious cuisines. A fan is attached to the bamboo-woven ceiling of this shared space, allowing gentle breezes to circulate.
This open floor plan also includes a fully equipped kitchen featuring a kitchen island, ready to cater to all your culinary needs throughout your stay at Villa Casa Laetitia. An AC is available to maintain a cool and comfortable temperature in the kitchen, ensuring a pleasant environment while you cook, work or interact in the space. Floor-to-ceiling sliding glass doors and windows completed this entire room, giving a sense of openness and embracing the outdoors.
A short corridor from the kitchen connects you to the master bedroom located in the right corner of Villa Casa Laetitia. This sanctuary features a queen-size bed and an en-suite bathroom. In place of a TV for entertainment, this master bedroom offers direct access to the turquoise swimming pool, providing a stunning view for your pleasure. Whether you simply wish to bask under the sun or crave a dip in the pool to escape the heat of the day, the pool area is yours to enjoy as your heart desires.
Ascend to the second floor of Villa Casa Laetitia, and discover a delightful haven featuring two high-ceiling bedrooms designed for your comfort and relaxation. Each bedroom comes with a plush bed for a restful night's sleep, a smart TV to watch your favorite channels at your leisure, and an en-suite bathroom for your privacy. Step out onto the cozy balcony and start your day with a zen meditation session, then relax in the evening after adventuring around the island.
Although Villa Casa Laetitia by Tibrava is located in a quiet area, it's only a drive away from the vibrant scenes of Canggu, Berawa, and Seminyak. Witness surfers in action on the nearby beaches of Pererenan, Echo or Batu Bolong. Don't miss the awe-inspiring Mengening Beach for its breathtaking sunsets against the evening sky, transforming the scene into a truly magical setting. Nearby, you'll find Pura Gede Luhur Batu Ngaus, a temple perched atop a grand coral boulder, reminiscent of the iconic Tanah Lot temple.
Book your stay at Villa Casa Laetitia now, and experience an abundance of memories that will last a lifetime.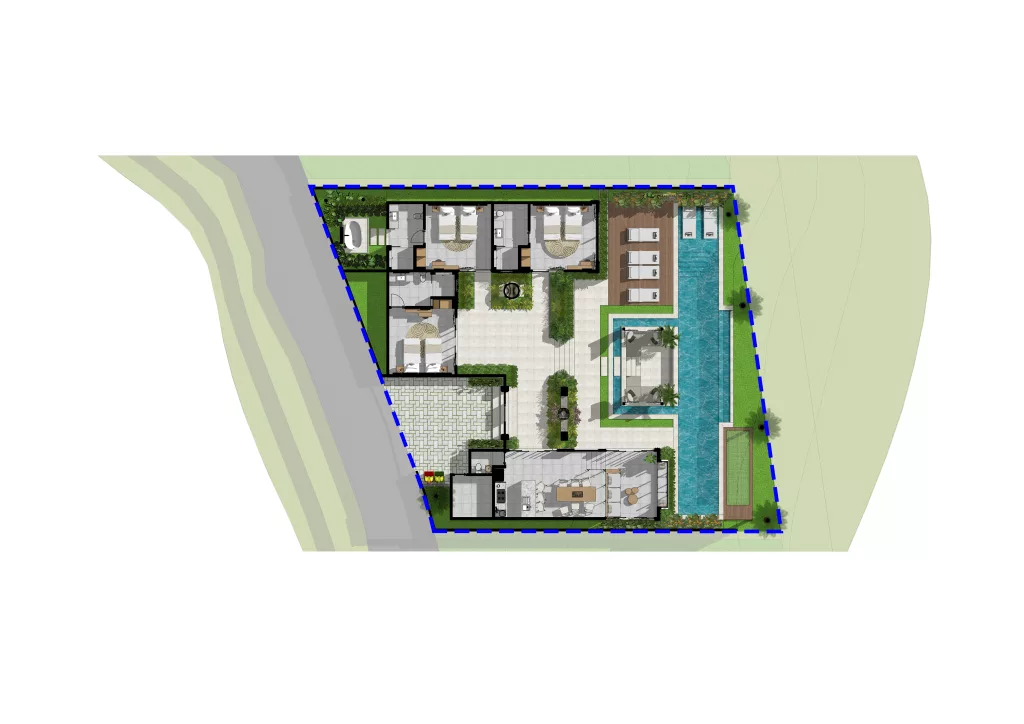 Tumbak Bayuh, Mengwi, Badung Regency