Villa Day Dream
Welcome to Villa Day Dream in Singakerta, a breathtaking 6-bedroom villa nestled amidst the captivating greenery of Ubud. Villa Day Dream invites you to embrace the gentle breezes, caressing the air as they play through the dense canopy, ensuring a tranquil sojourn with loved ones.
Each room at Villa Day Dream, harmoniously designed, showcases a queen-sized bed, which can be tailored to twin configurations if desired. The modern entertainment of a smart TV awaits, and an en-suite bathroom prepares you for the adventures of the day. The master bedroom presents an alfresco tub, letting you bask beneath the blue sky.
Central to Villa Day Dream's charm is the welcoming living space with a well-equipped kitchen, and a lovely dining room, amplified by the dual ceiling fans, which circulate the cool tropical breezes, crafting an oasis of calm. Catering to your comfort, a discrete guest lavatory marries function with flair.
Venture outside, and you're greeted by the cerulean embrace of Villa Day Dream's L-shaped pool, gracefully holding court as the jewel of the courtyard. For those with a thirst for invigoration, the villa's gym, decked with a range of apparatus, welcomes novices and aficionados alike.
Villa Day Dream in Singakerta, Ubud is a stone's throw from Ubud's cultural heartbeat. Delve deep into the locale, discovering quaint eateries, esteemed art houses, venerable museums, and bustling traditional bazaars.
Secure your reservation at Villa Day Dream today, and set off on a truly captivating getaway that promises to create indelible memories and rejuvenate your soul.
Other things to note
Our villa is designed to immerse you in the beauty of nature while embracing sustainable living. This extraordinary abode eschews traditional air conditioning in the living room, instead inviting the warm tropical breeze to serenade its inhabitants.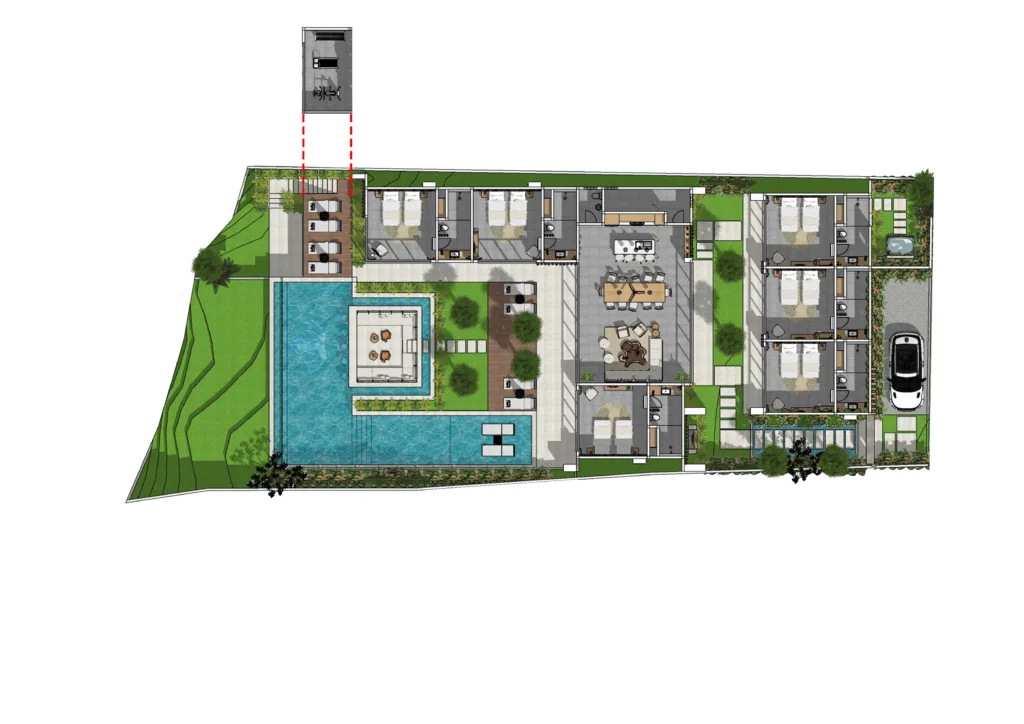 Singakerta, Ubud, Gianyar Regency, Bali