Villa Gian Minima
Welcome to Villa Gian Minima, a charming 4-bedroom villa in the heart of Singakerta, Ubud. This spacious and comfortable villa has plenty of room for everyone to relax and enjoy their stay. Upon entering Villa Gian Minima, you will be greeted by gracious trees lining up the fish pond, leading toward a peaceful Ganesha statue sitting amidst the vertical garden. Perfect for couples, families, as well as small groups, Villa Gian Minima is a home away from home surrounded by lush rice fields and verdant jungles of Bali.
Villa Gian Minima's four bedrooms are fully equipped with everything you need for a restful night's sleep, including air conditioning, Smart TVs, and en-suite bathrooms. The master bedroom features a full-size bed, an indoor bathtub, and an outdoor shower. The second bedroom comes with an outdoor bathtub, and the other two bedrooms have two versatile twin-size beds in each that can be configured to accommodate any group size. The tropical plants along the walls add a touch of nature to this villa's modern design.
The villa's open-plan space invites you to surrender to its charms, embracing a laid-back atmosphere under its natural Alang-alang grass roof. Create a simple dish in the kitchen, enjoy your creation on the dining table, and watch your favorite TV show on the plush sofa. Two ceiling fans are installed in this area of Villa Gian Minima, allowing gentle breezes to circulate. Round arch windows commonly found in Mediterranean architecture along with sliding glass doors give you full access to the stunning views.
Soak up the sun at Villa Gian Minima's pool area, a haven to practice the art of doing nothing. Float on a bean bag or take a refreshing dip in the swimming pool. Doze off on the daybeds, each is covered with billowing soft white curtains. Get a massage in the gazebo under the alang-alang thatched roof. Indulge in your favorite drink while lounging at the swim-up pool bar. Read a book on the chaise lounge under the pool umbrella. Sway gently on the hammock while the wind rustles the tree leaves above. Watch day turns into night from the cozy sunken seating area with your loved ones.
Located in close proximity to all amenities that you need, Villa Gian Minima is an ideal hub for your Bali holiday. Visit the local shops, international restaurants, and cultural attractions in Ubud. Explore the Monkey Forest, watch the balinese dance shows in Ubud Palace, or go for an adventurous white water rafting on Ayung River.
Villa Gian Minima seamlessly blends traditional Balinese elements with modern comforts, creating a relaxing and stylish space for guests to enjoy in the peaceful surroundings of Ubud. Our friendly villa staff can assist with anything you need during your stay to make the most of your time on the island. Book your stay with us today and experience the best of Bali!
Other things to note
Our villa is designed to immerse you in the beauty of nature while embracing sustainable living. This extraordinary abode eschews traditional air conditioning in the living room, instead inviting the warm tropical breeze to serenade its inhabitants.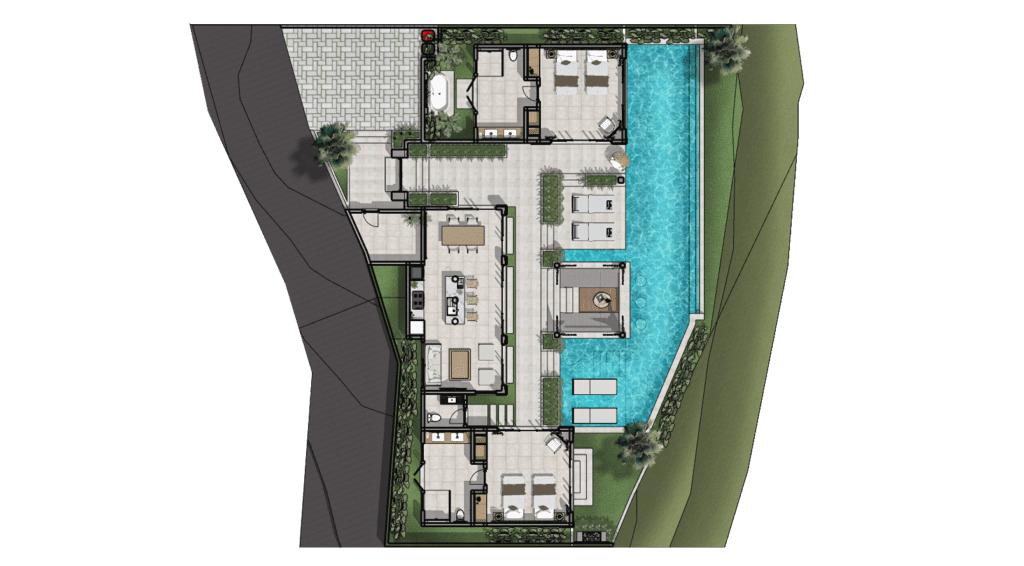 Singakerta, Ubud, Gianyar Regency, Bali