Villa Jimeste
Welcome to Villa Jimeste in Singakerta, Ubud, where contemporary meets nature in a harmonious embrace. Just beyond its entrance, a sculpted stone depiction of Lord Shiva sets the mood for a stay drenched in the charm and essence of Bali.
With three bedrooms, each furnished with twin beds, Villa Jimeste ensures a peaceful retreat for all its guests. Wake up to the gentle sounds of a calming water fountain in the courtyard. Let the en-suite bathroom facilities invigorate you for the day ahead. The master bedroom unveils an outdoor bathtub, perfect for unwinding under the open sky.
At the heart of Villa Jimeste, the kitchen seamlessly blends with the dining area, all set for your culinary creations. Opposite this space is the living room, where a vertical garden stands out as a green marvel, providing a backdrop for intimate gatherings or moments of introspection. And for your convenience, a guest toilet is provided nearby.
For those inclined to invigorate their body and mind, Villa Jimeste has got you covered. The on-site gym, with its array of equipment, welcomes enthusiasts of all levels. And for a more holistic experience, the Yoga Shala awaits, offering a tranquil haven for both seasoned practitioners and those just beginning their journey.
Outside, a captivating swimming pool, edged by the verdant bamboo jungle, beckons. Whether you're keen on a refreshing dip, lounging on the sunken seats, drifting on the bean bag, or simply basking on the chaise under the shade of pool umbrellas, relaxation is a given.
Set within the serene landscapes of Singakerta, Villa Jimeste strikes a balance between secluded tranquility and the spirited pulse of Ubud's attractions. From lush rice paddies to historic temples and bustling art scenes, the best of Bali is within arm's reach.
Let Villa Jimeste in Singakerta, Ubud, be your doorway to an authentic Balinese experience. Make your reservations today and step into a world where modern comfort and nature's beauty converge.
Other things to note
Our villa is designed to immerse you in the beauty of nature while embracing sustainable living. This extraordinary abode eschews traditional air conditioning in the living room, instead inviting the warm tropical breeze to serenade its inhabitants.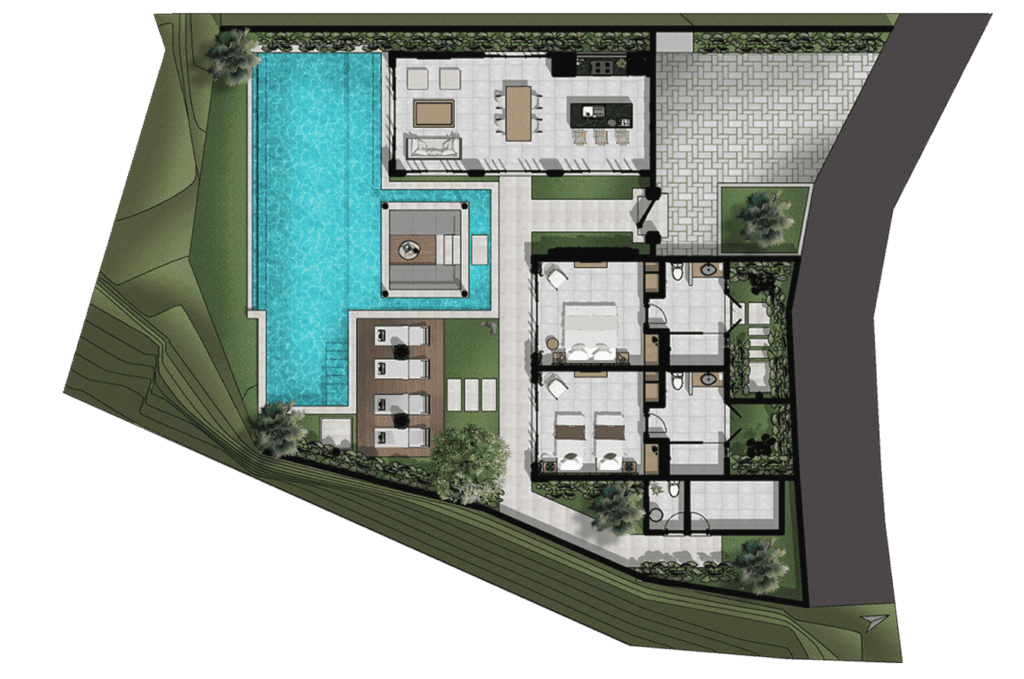 Singakerta, Ubud, Gianyar Regency, Bali