Villa Jungle Rendez Vous
Welcome to Villa Jungle Rendez Vous, a delightful 2-bedroom villa nestled in the heart of Mas, Ubud. Overlooking the captivating jungle vista, this stylish haven is your invitation to relish a relaxed ambiance with your loved ones. Whether you're wandering through the famous sights nearby or savoring the tranquility of your secluded paradise, every moment is precious here.
Each bedroom within Villa Jungle Rendez Vous is equipped with a comfortable 1 King-size bed and 1 queen-size bed that can be converted into 2 single beds according to your choice, setting the scene for a rejuvenating sleep. There is also an en-suite bathroom in each room to add to your comfort. The first bedroom treats its guests to an alfresco bathtub, letting you unwind beneath the open sky. Meanwhile, the second bedroom boasts an indoor bathtub coupled with an outdoor shower, granting you to retreat into secluded serenity. 
Flowing seamlessly from one space to another, Villa Jungle Rendez Vous' open-plan living room with ample sofas blends with an intimate dining area, a well-equipped kitchen, and a cozy workplace for those of you who need a private place to do your work with Smart TV facilities and comfortable sofas. Encompassing the space, clear sliding glass doors fill the room with Ubud's serene light. Two ceiling fans are installed in this shared area, allowing gentle breezes to circulate throughout your stay.
In an era where work and wanderlust beautifully intertwine, Villa Jungle Rendez Vous offers a dedicated office specifically for the digital nomads amongst us. Outfitted with a robust Wi-Fi connection, a Smart TV, an Air Conditioning, comfortable seatings, and a long wooden table, this workspace ensures that productivity doesn't skip a beat while you're away from home. Transform your tasks into achievements in this work sanctuary.
Beyond the indoors of Villa Jungle Rendez Vous, the private pool calls you out to swim and soak up the sun. Choose your favorite book, be it unwinding beneath the traditional Alang-alang pool shade, getting lost in thoughts on the hammock, swinging gently on the hanging chair, or settling onto the outdoor sofas. Perfect for an afternoon brew or a riveting read, it's a slice of Ubud's pristine environment.
Villa Jungle Rendez Vous's convenience location is a great prime base for your Bali escapade. Immerse yourself in the cultural marvels of Mas, take a historic tour of the Ubud Palace grounds, wander through the Monkey Forest, or challenge yourself with white-water rafting on the Ayung River. End your day with a spa treatment followed by dinner at a nearby international eatery.
Reward yourself with a stay at Villa Jungle Rendez Vous. With its blend of comfort and character, it's the abode for memorable times with your family and friends in Mas, Ubud.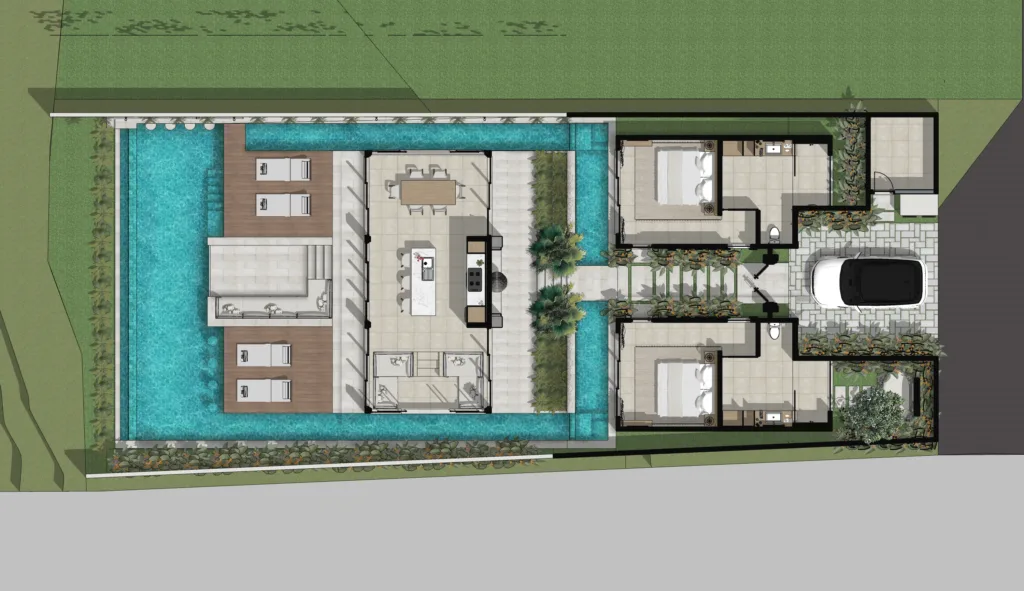 Mas, Ubud, Gianyar Regency, Bali