Villa Oasis
The oasis of Ubud, we would like to welcome you to a vacation like no other! With a focus on convenience, peace, and easy access, Villa Oasis is a villa dream come true. Enter the villa and you will be immersed in the sounds of nature accompanied by the grandeur and sheer size of this 6 Bedroom Villa. 
Villa Oasis perches atop a ravine that has a naturally formed waterfall in front of it, making your dips in the infinity swimming pool just that more amazing! You will find a jacuzzi located just at the entrance of the swimming pool as well as a kids pool just within an arm's reach of the pool. 
The villa is fully equipped for your office needs as well! A beautifully situated office with an office chair and a quieter atmosphere sits just at the end of the villa, equipped with its very own seating area outside the room as well. Villa oasis also has a large number of seating areas that can be used in both storeys of the property. The kitchen is fully equipped to accommodate any culinary need you may require! Every bedroom is also equipped with a Smart TV, making those netflix binge sessions just that much more enjoyable.
The villa is located in Lod Tunduh, Ubud. This means a perfect blend of serenity and convenience, you are perfectly secluded to indulge in the quiet sounds of birdsong and an evergreen breeze that flows through every room and portion of your villa without any effort at all. You are also located very closely to Suku Bali, a great spot for brunches and nightlife as well!
Other things to note
Our villa is designed to immerse you in the beauty of nature while embracing sustainable living. This extraordinary abode eschews traditional air conditioning in the living room, instead inviting the warm tropical breeze to serenade its inhabitants.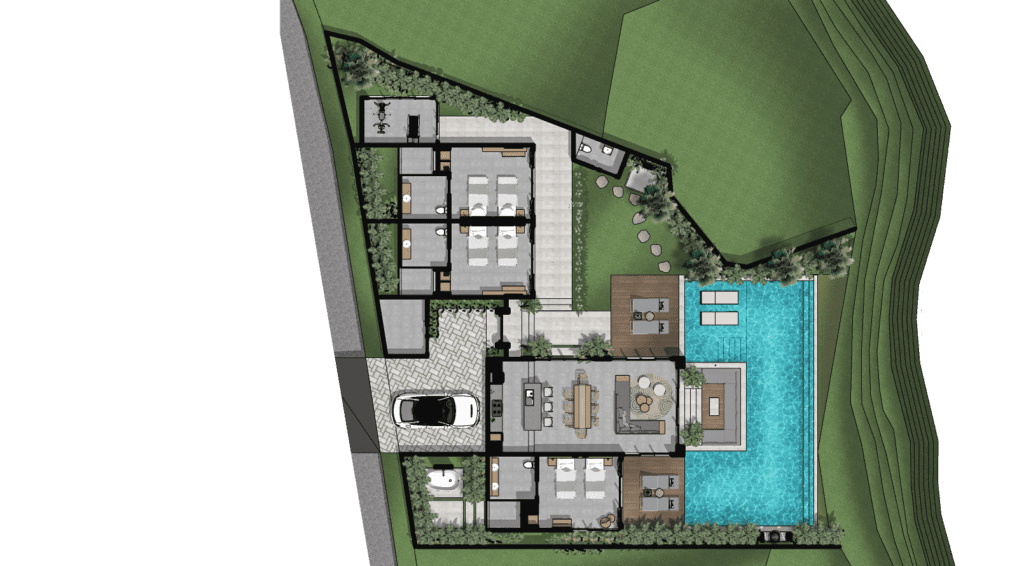 Lodtunduh, Ubud, Gianyar Regency, Bali