Villa PoolBar
Welcome to Villa Poolbar! This 5 Bedroom villa nestles itself gracefully within the serene and supreme rice fields of Ubud, Bali! The moment you enter the villa you are immediately greeted with the sheer grandeur and elegance that radiates from the space effortlessly. Its large, uniquely shaped infinity pool is home to a fully circular and sunken seating area, perfect for enjoying the unforgettable Ubud weather with your loved ones. 
Just west of the swimming pool are two fully furnished and fully equipped en-suite bedrooms, with Smart TVs, safety deposit boxes, and two double beds that can easily be combined to become one larger sized bed if you wish to do so, you can spend your days relaxing by the swimming pool or take in the views directly from your bedroom! 
Step outside the bedroom and you will find the amply sized living room, easily able to host more than 10 people on the dining table, and more on the couches and seats by the island in the kitchen. Your kitchen is fully equipped to handle anything you throw at it! Whip up some of your favorite dishes or drinks without any worry! 
The main attraction of your villa is the pool bar, located just east of the living room. Step to the stairs and find yourself in a roofed and wonderfully equipped pool bar, complete with seats by the bar within the swimming pool! Perfect for enjoying some music or your favorite drinks while you swim! Please be careful when handling electronic devices whilst you are in the Pool Bar, as they might fall within the swimming pool if you are not careful. 
You are also to find the remaining 3 bedrooms, one public bathroom and a special massage room with its very own private garden just right of the pool bar! Enjoy your days and call us to book a peaceful and therapeutic massage session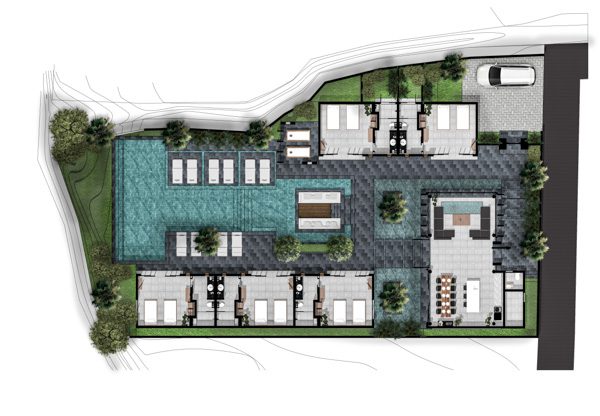 Pejeng, Ubud, Gianyar Regency, Bali