Villa Sarang Cocoon
Immerse yourself in the enchanting embrace of nature the moment you step into Sarang Cocoon Villa Ubud. Drawing inspiration from its Indonesian name, which loosely translates to a "cocoon nest," this exquisite 2-bedroom villa nestled in the heart of Peliatan, Ubud invites you to unwind and revel in the serene atmosphere that permeates every corner of the property.
Cocooned in tranquility, Sarang Cocoon Villa Ubud's bedrooms are sanctuaries of rest and rejuvenation. Each bed, adorned with luxurious linens, cradles you in its embrace, cocooning you in a blissful sleep. The master bedroom is equipped with a double size bed, a Smart TV, an en-suite bathroom, and an outdoor bathtub. The second bedroom comes with 2 single beds, a Smart TV, an en-suite bathroom, and an outdoor shower. Both bedrooms are carefully crafted to maximize airflow, ensuring you can breathe in the crisp, fresh air of Ubud.
Designed with a keen eye for detail, Sarang Cocoon Villa Ubud's architectural elements harmoniously blend with the lush surroundings, offering you a peaceful retreat. The kitchen, the heart of this enchanting space, beckons you with its understated elegance. Smooth, polished countertops invite you to unleash your culinary creativity, while state-of-the-art appliances stand ready to assist in your culinary endeavors. Each drawer and cabinet is carefully crafted to provide a seamless flow, ensuring that every tool and ingredient finds its place effortlessly. Adjacent to the kitchen, the dining table and living room unveil themselves, the place where culinary delights are savored with loved ones. The air is infused with the aroma of delicious meals, filling your senses with anticipation. The sunken area exudes a sense of serenity. Plush sofas, adorned with cozy cushions, invite you to sink into their embrace, offering a haven of togetherness.
As you explore the beautifully landscaped grounds, you'll be captivated by the tranquil ambiance and the soothing sounds of rustling leaves and chirping birds. Sarang Cocoon Villa Ubud's intimate outdoor areas will wrap around you like a gentle embrace. Whether you prefer to lounge by the swimming pool, to meditate under the pergola, or to enjoy a leisurely meal in the sunken area, this cocoon nest offers ample opportunities for relaxation and contemplation.
Sarang Cocoon Villa Ubud's prime location in the heart of Peliatan offers easy access to Ubud's bustling city center, allowing you to experience the rich cultural heritages, vibrant art scenes, and world-class culinary delights that this enchanting Balinese town is renowned for. With a plethora of temples, museums, galleries, and traditional markets just a short drive away, you'll have endless options for exploration and adventure. Surrender yourself to the embrace of this sanctuary, and let its cocoon nest feeling envelop you in a symphony of tranquility.
Other things to note
Our villa is designed to immerse you in the beauty of nature while embracing sustainable living. This extraordinary abode eschews traditional air conditioning in the living room, instead inviting the warm tropical breeze to serenade its inhabitants.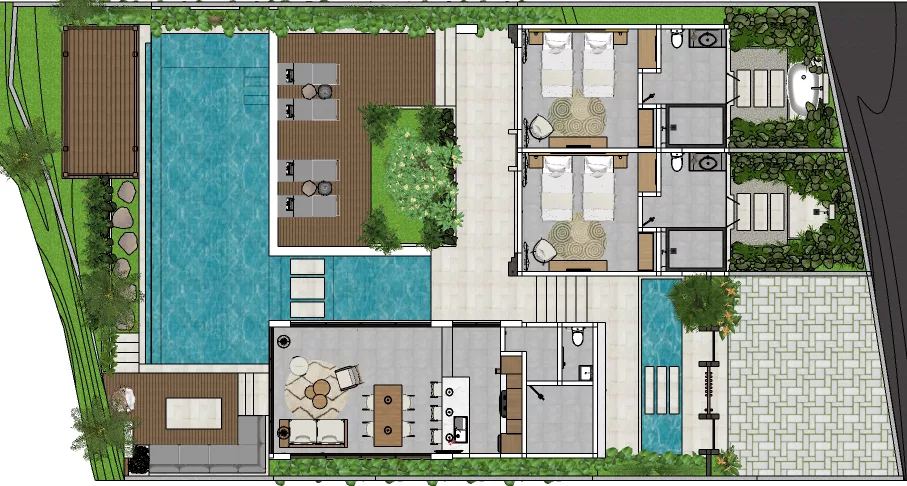 Peliatan, Ubud, Gianyar Regency, Bali