Villa Soleil
Discover our 4-bedroom Villa Soleil, a truly heavenly abode! A sanctuary of peace, this exquisite property offers a tranquil environment for friends and families looking to unwind in the serene village of Peliatan, Ubud.
With two bedrooms gracefully adorning each side, this villa unveils a haven of comfort and privacy. Each bedroom is well-furnished with modern amenities and en-suite bathrooms to make your stay as comfortable as possible. 
The heart of Villa Soleil lies in the grandeur of a single building, where fresh air flows in and memories are created in a fully-equipped kitchen, a cozy dining room, and a living room with tasteful furnishings. A guest toilet, discreetly nestled behind this building, offers ease and convenience.
For those seeking to maintain their fitness regime or simply to invigorate the body and mind, immerse yourself in a well-equipped gymnasium at Villa Soleil.
Step into the sunken seating area facing the shimmering infinity pool as the gentle breeze carries whispers of the coconut grove's lush greenery. Indulge in the tropical ambiance that envelops you as you recline upon the poolside lounge chairs, and immerse yourself in the soothing warmth and tranquility of a sun-kissed paradise.
Experience the ultimate relaxation and indulgence at our beautifully appointed Villa Soleil in Peliatan, Ubud for a journey of serenity.
Other things to note
Our villa is designed to immerse you in the beauty of nature while embracing sustainable living. This extraordinary abode eschews traditional air conditioning in the living room, instead inviting the warm tropical breeze to serenade its inhabitants.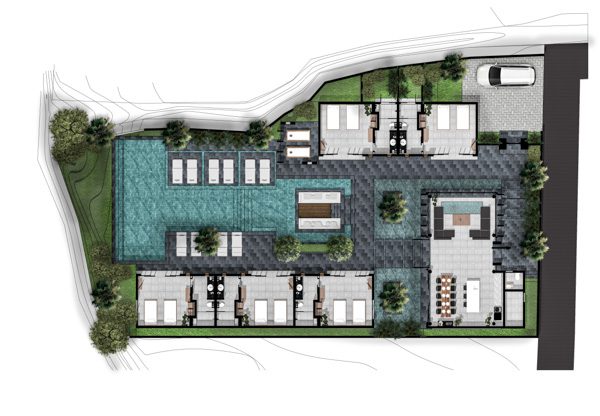 Peliatan, Ubud, Gianyar Regency, Bali