Villa St. Lau
Welcome to Villa St. Lau! This wonderful 3-bedroom villa is beautifully nestled in the heart of Peliatan, Ubud. This stunning villa offers a relaxing and tranquil retreat, with everything you need for an unforgettable tropical getaway. Upon entering the villa, you will be greeted by a spacious outdoor space with plenty of seating areas and a swimming pool that blends seamlessly with the lush coconut grove tree.
The first 2 bedrooms are havens of comfort in an intimate space, connected by a shared outdoor bathtub where you can indulge in soothing baths for a peaceful night's sleep. The third bedroom is a true delight, featuring direct access to the glistening swimming pool. Imagine waking up and taking a refreshing morning dip outside of your bedroom's doors.
Embrace the tropical ambiance as you bask in the warm sun at the pool-lounge chair, and sip on your favorite beverage, whether it's a refreshing cocktail, chilled wine, or a tropical fruit smoothie from the villa's pool bar in a serene atmosphere.
 For those seeking entertainment, the cozy living room offers a TV with a plush sofa for you to watch your favorite shows from, and a billiard table for friendly competitions and hours of enjoyment, perfect for unwinding after a day of exploration.
 Step inside the dining room next to a fully equipped kitchen complete with a convenient microwave, providing all the amenities you need for quick snacks or light meals. A wine cooler is available for wine connoisseurs to keep their fine wines ready for any occasion. A guest toilet is available behind the kitchen for easy access.
 As the evening approaches, gather around the outdoor barbecue grill and savor the flavors of a delectable grilled feast from the comfortable sofas outside of the bedrooms, while creating unforgettable memories under the starlit sky.
 Whether you are traveling with loved ones, friends, or seeking a romantic getaway, this enchanting 3-bedroom villa provides the perfect blend of relaxation and serenity. Book your stay today and discover the ultimate retreat in Ubud. 
Other things to note
Our villa is designed to immerse you in the beauty of nature while embracing sustainable living. This extraordinary abode eschews traditional air conditioning in the living room, instead inviting the warm tropical breeze to serenade its inhabitants.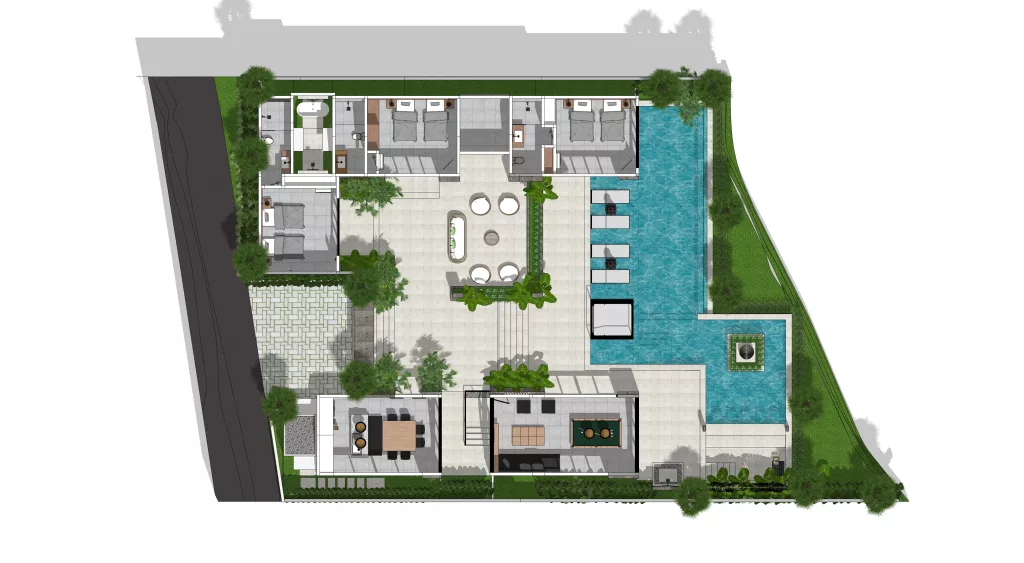 Peliatan, Ubud, Gianyar Regency, Bali