Villa Sunrise
Welcome to Villa Sunrise, your ultimate tranquil sanctuary nestled within the enchanting landscape of Teges, Ubud! Immerse yourself in the serene ambiance of this luxurious 2-bedroom villa that provides an idyllic escape from the hustle and bustle of everyday life. Surrounded by lush rice fields, verdant jungles, and captivating natural wonders, this blissful haven is truly a place where relaxation and rejuvenation abound.
As you step into the villa, you'll be greeted by the sunken living area, a unique and comfortable space designed to bring the outdoors in. Floor-to-ceiling glass windows offer breathtaking panoramic views of the surrounding greenery, while the tasteful interior décor creates a warm, inviting atmosphere perfect for unwinding after a day of adventure. Sink into plush sofas, enjoy a good book, or simply bask in the calm ambiance of this harmonious space.
Villa Sunrise's private swimming pool is a true highlight, providing a secluded oasis for you to soak up the sun or take a refreshing dip at your leisure. Surrounded by a beautifully landscaped tropical garden, the pool area offers a serene space for you to connect with nature while enjoying the soothing sounds of cascading water features. Take a moment to lounge on the stylish sunbeds or enjoy the gentle breeze in the shade of the charming poolside gazebo.
Each of the villa's two spacious bedrooms is a sanctuary in itself, complete with luxurious linens, sumptuous furnishings, and state-of-the-art amenities. En-suite bathrooms feature elegant fixtures, perfect for pampering yourself after a day of exploration.
The environs of Teges, Ubud, are renowned for their stunning natural beauty and unique cultural offerings. Breathe in the crisp, fresh air as you meander through the verdant rice fields, or engage in a variety of activities such as hiking, cycling, or yoga. The region also boasts an array of vibrant markets, artisanal shops, and world-class dining establishments, ensuring that there is truly something for everyone to enjoy.
At Villa Sunrise, you'll experience unparalleled comfort, luxury, and serenity in a setting that is both calming and invigorating. Your tranquil, peaceful, and cozy retreat awaits your arrival. Come and discover the magic of this beautiful villa and make lasting memories in the heart of Ubud's enchanting landscape
Other things to note
Our villa is designed to immerse you in the beauty of nature while embracing sustainable living. This extraordinary abode eschews traditional air conditioning in the living room, instead inviting the warm tropical breeze to serenade its inhabitants.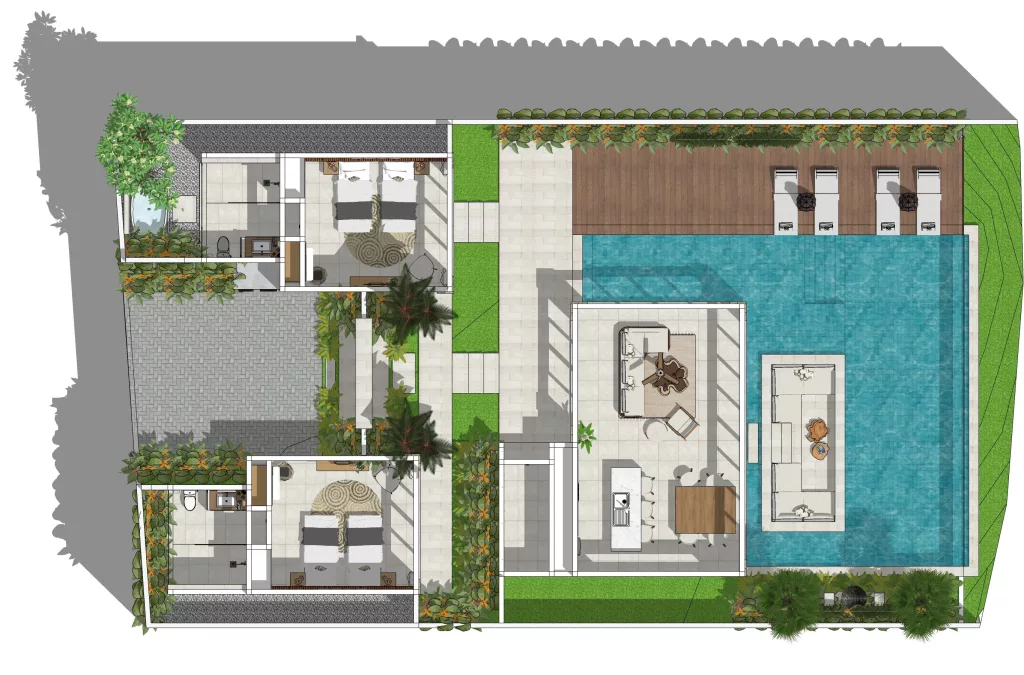 Peliatan, Ubud, Gianyar Regency Bali