Villa Taurus
Welcome to Villa Taurus, a 5-bedroom sanctuary nestled in the serene oasis of Canggu, Berawa. This architectural masterpiece exudes unparalleled elegance, sophistication, and opulence, redefining the meaning of luxury island living. Villa Taurus stands out as an exquisite gem among the island's most prestigious properties.
As you step through the grand entrance, you are greeted by an awe-inspiring double-storey haven adorned with stunning white designs, perfectly complemented by chic custom-made furniture. The villa's immaculate craftsmanship and attention to detail are evident in every corner, capturing the essence of a true haven for the discerning traveller.
Villa Taurus boasts three distinct living areas, each designed to provide an ambience of lavish comfort and style. These spacious lounges offer a harmonious blend of modernity and warmth, inviting you to indulge in a truly luxury island experience. The expansive, floor-to-ceiling windows fill the rooms with an abundance of natural light, creating a bright, airy atmosphere that beckons you to unwind and rejuvenate.
The state-of-the-art amenities at Villa Taurus cater to your every need, ensuring a seamless fusion of form and function. The cutting-edge technology, sumptuous furnishings, and high-end appliances are all meticulously curated to provide a lifestyle of unparalleled luxury and convenience.
The villa's idyllic location in Berawa offers you seclusion and tranquillity, while also providing easy access to the island's attractions. The breathtaking views, lush tropical landscape, and gentle sea breeze create an enchanting backdrop for your stay at Villa Taurus.
Indulge in the ultimate luxury escape at Villa Taurus, where every detail has been meticulously crafted to offer an experience of unparalleled beauty, grandeur, and sophistication. Surrender to the allure of this magnificent property and create unforgettable memories that will last a lifetime.
Other things to note
Our villa is designed to immerse you in the beauty of nature while embracing sustainable living. This extraordinary abode eschews traditional air conditioning in the living room, instead inviting the warm tropical breeze to serenade its inhabitants.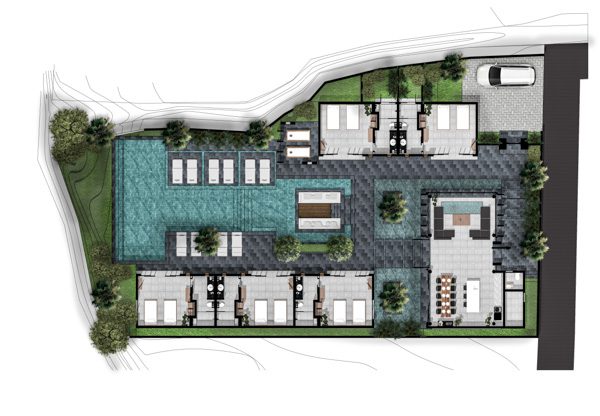 Tibubeneng, Kuta Utara, Badung Regency, Bali