Villa Taya
Paradise awaits you! Villa Taya, a 2 Bedroom Villa situated in Singakerta, Ubud, brings upon some of the most eye-catching, calming and serene use of modern architecture, tropical design and white Palimanan stones to enhance the vacation aesthetic to its full potential! 
Step inside the villa and you are immediately greeted with excellence, class and a sense of excitement of a beautiful stay! The fully equipped living room is perfect to spend your afternoons or and evenings, allowing you to fully open the sliding doors and take in the fresh air from the ample palm trees and greenery that nestles your stay with ease. Step outside and relax by the sunbeds, or by the unique sunken seating area that's situated just by the swimming pool
Take a dip in your very own private swimming pool without any worries! Peer upon the nature that exists around you and above you! If you fancy a more private experience, you are welcome to enjoy the beauty of the Ubud nature from your very own bathtub that exists in one of the bedrooms, just by the living area! Both of the en-suite bedrooms allow for easy access to the outdoors, with sliding doors and large windows that allow for fresh air. 
Villa Taya is located in Singakerta, home to ample nature and good facilities as well as being close to Sayan, one of Ubud's greatest spots for both culinary experiences and day trips! Singakerta is about 10 minutes to the heart of Ubud and its world famous monkey forest.
Whether you're looking for a relaxing getaway or an action-packed adventure, Villa Taya is the perfect place for you. With its prime location in Singakerta and close proximity to Ubud's famous sights, you'll have everything you need right at your doorstep. Take a yoga class, explore the rice fields, or simply sit back and enjoy the peace and tranquility of the surroundings.
Book your stay at Villa Taya today and start your journey to paradise! Immerse yourself in the beauty and serenity of Ubud, and create memories that will last a lifetime.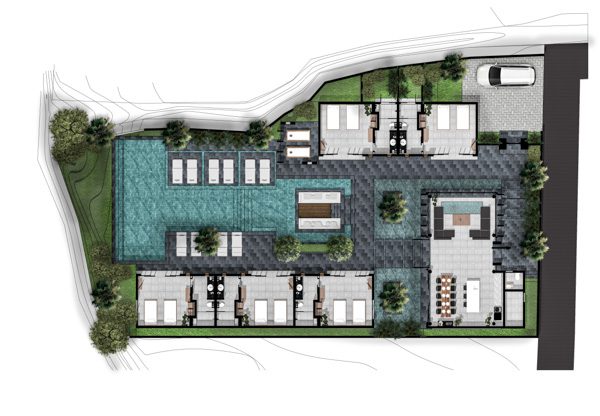 Singakerta, Ubud, Kabupaten Gianyar, Bali