Villa The Limasan
SPECIAL! Exclusive Beachside Retreat!
Experience the elegance of villa The Limasan, a gem nestled just 80 meters from the shores, right in the heart of the renowned Canggu district. Here, a plethora of exquisite restaurants and quaint warungs offer a medley of Indonesian and Western culinary delights. This villa, an authentic 100-year-old Indonesian wooden residence, has been meticulously modernized without losing its traditional charm.
Villa The Limasan occupies a 300 m2 estate, boasting two cozy bedrooms, each complete with an en-suite bathroom. The expansive 130 m2 ground-level space also features a breezy living room with a modern kitchen. The attached terrace, furnished to perfection, provides a serene view of the fenced garden and the inviting swimming pool – making it your ideal home away from home in Bali.
Outdoor Splendors and Pool
The villa welcomes guests through an elegant driveway that leads to the main entrance. Its lush garden, crowned with towering palm trees, offers a safe haven for children to play or indulge in games. Those looking for a refreshing dip can plunge into the sparkling waters of the swimming pool, while sun-lovers can lounge on the four sunbeds. Ensconced within high walls, villa The Limasan ensures utmost privacy and security for its guests.
Exquisite Living Spaces
Villa The Limasan stands as an architectural marvel, radiating a unique Balinese elegance. Sun-kissed interiors, fully air-conditioned with ceiling fans, offer a constant reminder of the nearby ocean. Within, plush sofas invite guests for leisurely moments or cinematic experiences on a Smart TV. Whether it's dining under the stars on the terrace or within the confines of the living room, every meal becomes an occasion here.
Cozy Bedroom Suites
The villa houses two cozy suites designed with tropical inspired furniture. One bedroom is adorned with a premium queen-size bed of 14,5 m2 , while the other offers a comfortable  twin single bed of 13m2. Both suites at villa The Limasan come equipped with an en-suite bathroom of 7,5 m2, featuring dual sinks, a shower, a toilet, and a ceiling fan.
Dedicated Staff and Services
To enhance your stay, villa The Limasan is supported by a dedicated team. From a hands-on villa host to housekeeping staff, a pool attendant, and a night-time security personnel, every need of yours is catered to.
Explore Canggu and Beyond
Location is everything, and villa The Limasan's prime spot in Canggu places you close to trendy restaurants, chic boutiques, and vibrant beach clubs. The ocean, just a minute's walk away, beckons surfers and swimmers alike. For a slice of Balinese heritage, the iconic Tanah Lot Temple on the cliff-edge is a mere 20-minute scooter ride away. If urban vibes call you, the bustling heart of Seminyak is within a 20-minute drive.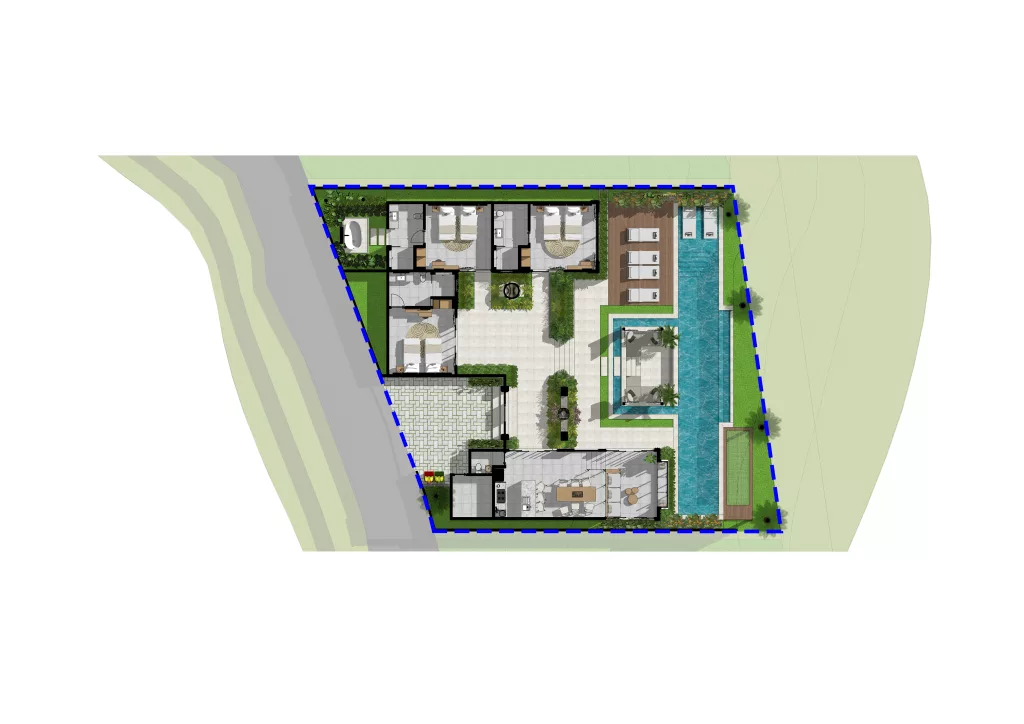 Canggu, Kuta Utara, Badung Regency, Bali