Villa Three Little Birds
We welcome you to an incredible experience throughout the whole villa! Villa three little birds sit atop a small cliff that naturally creates and enhances the jungle views that accompany your line of sight wherever you are in the villa. Step inside and descend towards the main portions of the villa, with one master bedroom and outdoor garden area located towards the east, and one bedroom to the west. The final descent towards the lush infinity swimming pool contains the living area, kitchen and one more bedroom. 
With an unforgettable cascading entrance to lower levels, giving you direct access to jungle views by your very own infinity pool, VIlla Three Little Birds begins and ends your day with sheer excellence. The villa is a 3 bedroom, multi storey villa that has rooms in 2 different levels, enter the villa and find the living areas and some rooms whilst the other room is a level below. 
The villa takes advantage of as much nature as possible, with the tropical setting of a jungle view always in view and always giving you a slightly colder and oxygen rich breeze, wherever you are in your day. This villa is fully equipped to perfection, with a kitchen, HDTV included en-suite rooms, and nature views that are nothing short of breathtaking.
Other things to note
Our villa is designed to immerse you in the beauty of nature while embracing sustainable living. This extraordinary abode eschews traditional air conditioning in the living room, instead inviting the warm tropical breeze to serenade its inhabitants.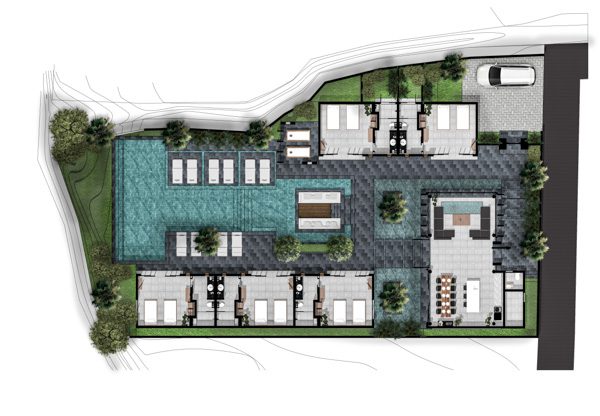 Tegallalang, Ubud, Gianyar Regency, Bali