Villa Veryhan
Take a breather! Take a step into one of the most wonderful, cosy and extremely peaceful Villas in all of Ubud, Villa Veryhan becomes a sight for sore eyes with its beautiful arches, its open air design and truly one of a kind views that people from all around the world thrive for! Its direct jungle views combine with the unforgettable tropical architecture, seamlessly blending in with the wooden touches and glass panes without any effort. 
Nestled in the heart of Bali's cultural capital, Ubud, Villa Veryhan is a hidden gem that promises a tranquil escape from the hustle and bustle of everyday life. As soon as you step into the villa, you will be greeted by a sense of calm and serenity that will soothe your soul. The villa is tastefully decorated with an open-air design that seamlessly blends the indoor and outdoor spaces.
The beautiful arches and wooden touches of Villa Veryhan create a warm and inviting atmosphere that will make you feel right at home. The villa's two bedrooms are spacious and well-appointed, with comfortable beds and luxurious linens that guarantee a good night's sleep. 
One of the highlights of Villa Veryhan is its private infinity pool, which is a refreshing oasis that you can enjoy anytime you want. Whether you want to soak up the sun on the sunken seating area or take a dip in the crystal clear water, the pool is the perfect place to relax and unwind. The living area and kitchen are also open-air, so you can enjoy the beautiful views of the surrounding jungle while you cook, dine, or lounge.
Peliatan is a quiet and peaceful village in Ubud that is known for its beautiful rice paddies, ancient temples, and friendly locals. Staying at Villa Veryhan gives you the opportunity to experience the authentic Balinese way of life and immerse yourself in the island's rich culture. Whether you want to explore the local markets, take a yoga class, or go on a hike in the nearby mountains, there is always something to do in Ubud.
Other things to note
Our villa is designed to immerse you in the beauty of nature while embracing sustainable living. This extraordinary abode eschews traditional air conditioning in the living room, instead inviting the warm tropical breeze to serenade its inhabitants.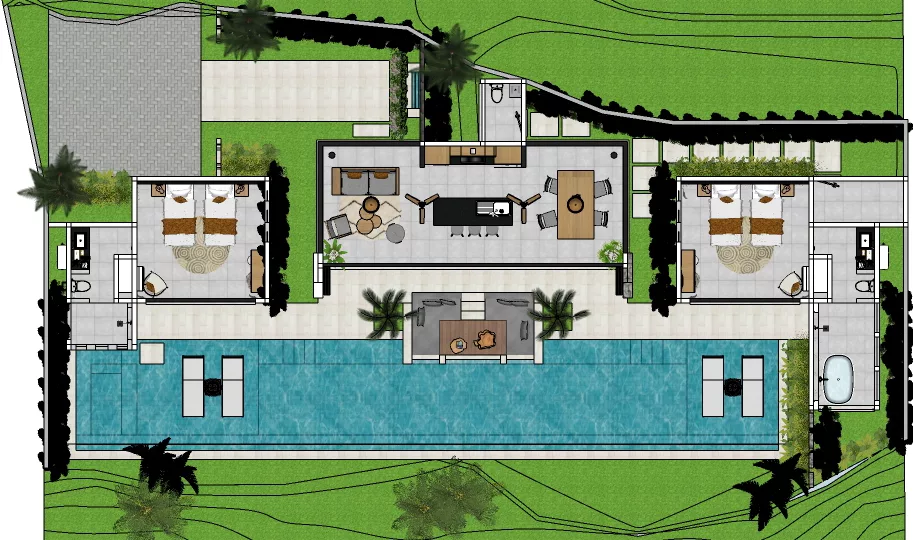 Peliatan, Ubud, Gianyar Regency, Bali