Villa Yema II
Nestled in the picturesque Babakan area of Bali, Villa Yema II is the epitome of tranquility and rejuvenation. This luxurious 2-bedroom villa, with its harmonious blend of Mediterranean and Greek design elements, invites you to indulge in the ultimate staycation experience. Surrounded by lush tropical greenery and just a short distance from the stunning Balinese coastline, Villa Yema effortlessly captures the essence of paradise.
The property's exterior is characterized by its crisp white walls that provide an elegant and calming atmosphere that perfectly complements the island's natural beauty. The open-plan living room, adorned with comfortable furnishings and tasteful artwork, opens up to a breathtaking view of the outdoor swimming pool. 
Each of the two spacious bedrooms is elegantly appointed with plush bedding, soft linens, and air conditioning to ensure a comfortable and restful night's sleep. One of the bedrooms is equipped with an en-suite bathroom, full of amenities and toiletries. The second bedroom also has a bathroom next to it with exactly the same facilities.
The fully equipped gourmet kitchen allows you to channel your inner chef and prepare sumptuous meals, while the alfresco dining area offers an idyllic setting for savoring your culinary creations amidst the gentle rustle of palm trees and the soothing sound of water cascading into the pool.
As you unwind in the beautifully landscaped garden or recline on one of the poolside loungers, the villa's azure swimming pool beckons you to take a refreshing dip!
Villa Yema II's exceptional location in the heart of Babakan allows you to explore Bali's vibrant culture, delectable cuisine, and world-class surf breaks with ease. Whether you choose to spend your days relaxing in the villa's serene confines, strolling along the pristine beaches, or embarking on exhilarating adventures, Villa Yema II promises a stay that is as memorable as it is rejuvenating.
Other things to note
Our villa is designed to immerse you in the beauty of nature while embracing sustainable living. This extraordinary abode eschews traditional air conditioning in the living room, instead inviting the warm tropical breeze to serenade its inhabitants.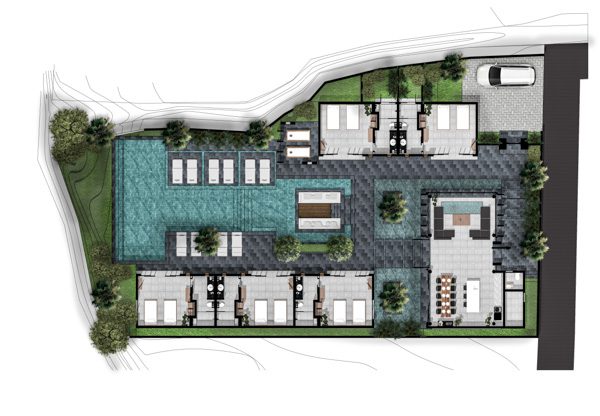 Babakan, Canggu, Kuta Utara, Badung Regency, Bali