Villa Yoga Paradise
Step into Villa Yoga Paradise and you are immediately at peace,  The villa is only a stones throw away from the Ubud Center! Only 500 meters from the property and all commodities are near (supermarket within 20 meters), with the wondrous sounds of nature, birdsong and tranquillity. The villa perches itself amidst some of Ubud's unforgettable greenery and nature, its jungle views peppered with palm trees and serene ambience are truly sights and sounds to behold! 
This beautiful 5 bedroom property has 4 of its bedrooms on the highest (1st) floor, of which 2 are connected to each other via a door, perfect for small families or kids! A bathtub also is present in the 2nd bedroom. 
Step down to the 2nd floor and you are greeted to the left with a fully capable and spacious living room, easily able to seat over 10 people with ease! The fully equipped kitchen is also just by the large circular dining table, with amenities such as a wine cooler, oven and stove, rice cooker, two door fridge and a microwave.There is also a beautiful outdoor sunken seating area located just outside the living room.
The fitness center is just an arm's reach from the living room! Enjoy your workouts with a view, it is fully equipped to handle over 10 people working out with ample space for extended movements and activities! You are in safe hands as well, with rubber padded floors and an air conditioner as well as a large window allowing you to peer upon the jungle views just outside! 
The lowest floor is home to your very own private infinity swimming pool, sunbeds, and hammock! This floor also contains 3 large sunbeds that are great for sharing! Spend your days relaxing and taking in the fresh air that Ubud is well known for without ever breaking a sweat.
Villa Yoga Paradise allows easy access to the main roads and the countless locations that attract tourism from all over the world, such as Ubud's Monkey Forest, Campuhan Ridge Walk, the Ubud market and a plethora of gourmet dining experiences too!
Villa Yoga Paradise also has it's very own private parking area that is easily accessible and allows for more than 2 cars to be parked directly in front of the property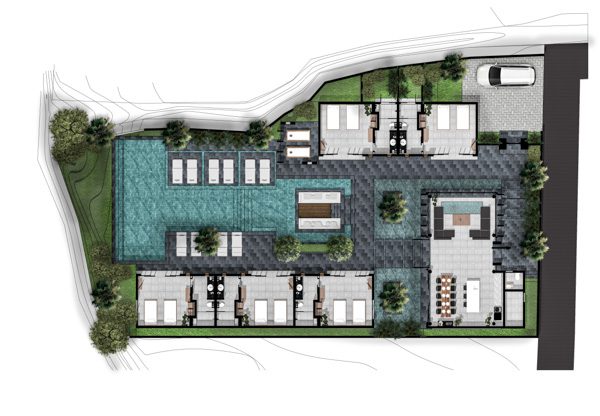 Peliatan, Ubud, Kabupaten Gianyar, Bali