Villa Yudistira
Step into a peaceful oasis in Pererenan, Bali! Villa Yudistira is a truly beautiful sight to behold! With two storeys and unobstructed views to nature, relaxing by the sunbeds just by the wonderful L shaped infinity pool with ease, the villa lends itself to become as one with nature as possible.
Escape the hustle and bustle of everyday life and step into a tranquil haven in the heart of Pererenan, Bali. This stunning 4-bedroom villa is a sight to behold, boasting exquisite design features and a perfect balance of luxury and comfort.
Spread across two spacious storeys, this villa offers unobstructed views of the lush natural surroundings, allowing you to fully immerse yourself in the breathtaking beauty of Bali. The villa's design seamlessly blends the indoors and outdoors, creating a harmonious connection with nature that will leave you feeling refreshed and rejuvenated.
As you lounge by the sunbeds overlooking the magnificent L-shaped infinity pool, you'll feel like you're floating above the treetops, with nothing but the sounds of birds chirping and leaves rustling in the gentle breeze. The pool's sparkling blue waters beckon you to take a dip and cool off from the tropical heat.
Whether you're seeking a romantic getaway or a family vacation, this villa provides the perfect escape from the stresses of everyday life. With its peaceful atmosphere and stunning natural surroundings, you'll feel a world away from the hustle and bustle of the outside world. So why wait? Book your stay in this beautiful villa and experience the ultimate in relaxation and tranquility.
Other things to note
Our villa is designed to immerse you in the beauty of nature while embracing sustainable living. This extraordinary abode eschews traditional air conditioning in the living room, instead inviting the warm tropical breeze to serenade its inhabitants.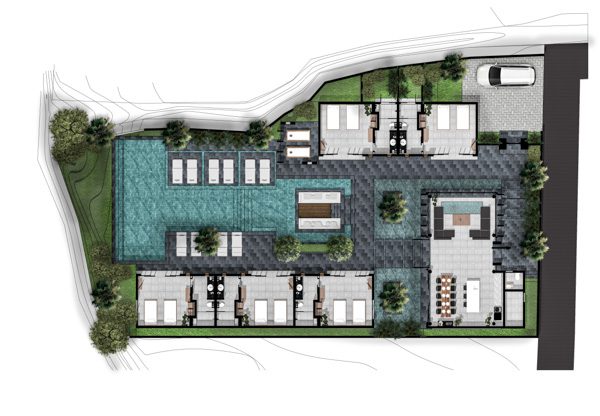 Tumbak Bayuh, Canggu, Kuta Utara, Badung Regency, Bali